KOVISS is a leading manufacturer of high quality golf tee and golf accessories.

Manufacturer of the unique VS TEE series, a revolutionary tee system that utilizes high-end spring to tee up the ball. The inherent flexibility of the spring provides a clean strike by reducing the resistance.
KOVISS TEE
The VS TEE lasts an average of 18 rounds, making it an economical choice over wooden tees. This durable tee gets out of your club head's way at the point of contact for a cleaner follow through.
The Par3 TEE is for all irons and attached to the VS TEE keeps the tee from being lost off of the tee box. Get ahead of the competition with this incredibly smooth, consistent tee.
One spring TEE replaces upwards of 500 wooden tees, the up shot of which is less clutter in the bag, on the tee box, and a few more trees in the woods.
Swing up you ball and feel the difference - it's time to change your Golf TEE
Koviss tees de golfe, o original



KOVISS é um dos principais fabricantes de Tees e Acessórios de alta qualidade para a pratica do golfe.

Fabricante da original incomparável série VS Tee, um sistema revolucionário que utiliza alta tecnologia para a tacada de bola. A flexibilidade inerente da mola interna proporciona uma batida limpa ao reduzir a resistência na tacada.

Um Tee de golfe suave e consistente feito de uretano e nylon extremamente duráveis. Koviss Tees duram em média 18 circuitos de golfe tornando-se uma opção econômica se comparado aos feitos em madeira. Estes Tees sâo duráveis e garanten uma tacada limpa do club sobre a bola e adiante. A parte superior do Tee onde repousa a bola, possui um atrito incrivelmente baixo proporcionando maior controle e a sensação de uma bola pairando suavemente em seu lugar.

Koviss Tees de golfe são extremamente ecológicos. Somente nos EUA cerca de 2,8 bilhões de golfe tees de madeira são usados ??a cada ano. Um Koviss Tee de golfe substitui até 500 tees de madeira, não só garante mais árvores nas florestas mas também menos confusão na sua bolsa.

A Koviss oferece uma vasta gama de modelos de tee De Golfe e outros produtos de golfe de grande qualidade que cobre as necessidades de todos os tipos de jogadores. Ideal para jogadores de golf, escolas de golf, campos de golf mais ideal para torneios e ações promocionais.

Koviss tee de golfe conforme as normas da USGA e R&A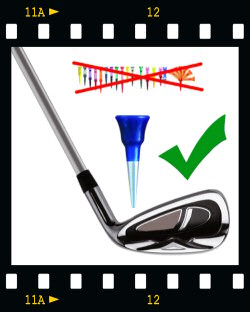 Koviss Product Presentation
---
see VS TEE Video
---
download Catalog
---